Wooden toys and spanking paddle cleaning information

Wood and the myths and fears surrounding it.
Wood is feared within the sex toy industry.  A Lot of people's biggest fear of wooden toys is not the material itself it's from spitters. These fears are totally unjustified as a piece of well finished wooden toys will not give you any splinters, When was the last time you thought twice about using a wooden spoon. Spatula or a salad bowl ?. The only time there is any likelihood of a splinter is if the product is damaged or broken which again is highly unlikely.
Wood is a chemically stable wood and will not change over time although some timber is not suitable for use for dildos or butt plugs the majority of timbers out there are all safe. For all our products we tend to stick to English food safe timbers only using specialty timber for handles and one-off piece. The process of manufacturing all of our products takes as long as it takes as some pieces will be taken right back to the beginning of the finishing process if we are not 100% happy with them. Spending more than 50% of the manufacturing process making sure the product is as smooth as silk with no pesky splinters.
PROS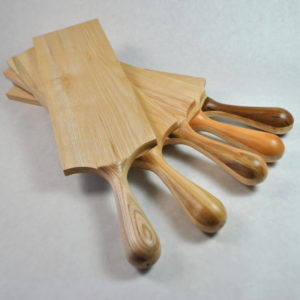 Smooth

Individual

Takes on body temperature fast

Aesthetically pleasing

Firm

Long-lasting
CONS
Not 100% non-porous

Not 100% non-toxic
How does it feel? Is this material the right choice for me?
No two of our pieces will ever be the same down to the unique nature of this amazingly versatile material. With our years of background knowledge in the joinery trade and furniture manufacturer, we know how to utilize a piece of wood to show off its true potential and how to get the most strength out of it. Choosing the timber from different areas of the tree give us great versatility to the finished product
All of our wooden products are easy to clean and maintain. We use high-quality finishes specifically chosen for their hard wearing properties. Also, provides improved heat and water resistance and does not contain harmful petroleum solvents such as toluene or xylene.
Caring for your paddle made easy!
Wood cannot be sterilized but the lacquer we use can be wiped down with antibacterial wipes. After a hard session, there may be small amounts of sweat or other bodily fluids on your spanking paddle. Simply wipe it down with your chosen wipe. Spirit or alcohol-based cleaners can damage the finish so we don't suggest they are used.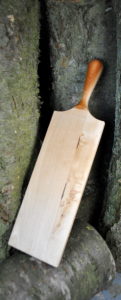 Whenever you put your paddles or wooden toys away you need to make sure they are completely dry as wood can take on moisture with will cause it to warp and possibly split. Making sure the place you store your toys in is also important. The storage place must be clean and dry and not too hot so not and airing cupboard.
So how do you keep your spanking paddles looking beautiful?
Now to keep the shine on your wooden spanking paddle you will need to "feed" it and we don't mean take it out for a 3-course meal and a bottle of red wine. A wipe over with oil such as our toy oil or a butcher's block oil.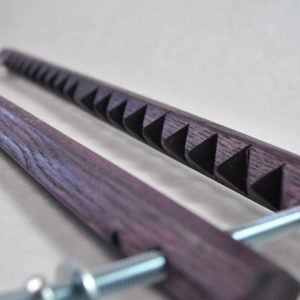 Our oil contains tea tree extract that will help disinfects the paddle.
Simply applied with some kitchen paper or an old cloth. Apply a small amount of oil on the paper or the cloth and with your finger make small circles to rub in the oil. A sheen or oily finish will stay on the surface for a while and any excess needs removing after 24 hours this allows some of the product to soak in. there is no need to put the item in front of a radiator or fan to dry in fact it's better to leave it to naturally cure at its own speed. It's ready to use again when you touch it and don't feel the oil residue on your fingers.
How to Clean Your Wood Sex Toy
YES
Non-abrasive Soap and warm water

Antibacterial soap

10% bleach (depends on the type of coating)
NO
Boiling

Dishwasher

Alcohol or spirit based products
LUBES
If you are going to use any lubrication with any of our products we suggest only using water-based ones. Others may affect the finish. A small amount of lube will go a long way.
If any of your Wooden toys do get damaged please contact us with photos and we will see if we can get it all back to being as good as new. Photos can be sent using our contact form on the contact us page. Repair cost will vary on amount of work needed and shipping is chargeable