Let others know what you think, review BDSM products
So you have made the plunge and purchased a paddle or perhaps a Breast clamp and you want to tell the world what you thought of it well you can. Extremely easy and fast read on to find out more about review BDSM products
.
Why write a Gratefulpain product review?
Writing a product review let others know how real people think about our products. These insights can help people purchase the correct items for thee needs. It's also a great way to share new and exciting ways of using our fetish items. Also, help others with tips and advice on how to use the items or how to get into items such as the Humbler. The Product reviews are not only useful to the other site users but they are also extremely useful to us. We take all feedback on board and use it to improve our products as well as develop new ones. We also like reviews as it helps us sell more of our Kinky things helping others get their Gatefulpain :).
How to add your review onto the site
A picture is said to speak a thousand words so we have added lots of pictures of how you can go about adding your BDSM review to our site. So to write a product review you have to have actually purchased the product.
Stage one.
Step one is simple go to www.gratefulpain.co.uk and log into your account.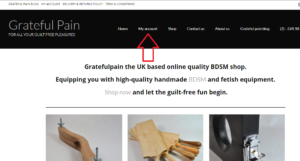 Step two.
After logging in simply scroll down and find your orders via the tab on the left-hand side.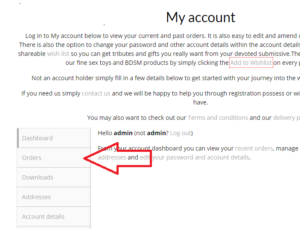 After clicking it will open up all your orders find the one with the product you want to review and click. This will bring up a copy of the invoice simply click on the product name and it will take you to that specific product page in this example the Fetish hand stocks.

Step Three
Scroll down and click the review tab this will bring up the review section as per the below picture. With three simple steps give us a 5-star rating then fill in your review and then finally submit your review.   

So that's it you have now helped others out within the BDSM community as well as the newcomers to the fantastic world of kink and fetish.
Whats next?
We are always looking for new and exciting ideas and always look towards people within the community to tell us what they want. So do you have an idea? Want to work with us on a product to help you get better enjoyment and pleasure from your BDSM sessions. Contact us with your ideas and who knows you could help us produce the next big pleasurable pain piece.
Here at Grateful Pain we only encourage safe and consensual BDSM and fetish between adults. If you want more information on a BDSM we have many more articles to read including safe words and paddle care.